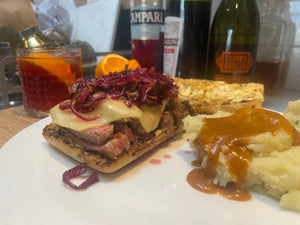 *warning I am not a cook*
As some of you might know I work every weekend but, this weekend I had it all off. Shocking I know, so me and my partner Rueben decided to make the most of it.
On Saturday Rueben cooked a lovely breakfast for us featuring some delicious sourdough from Born & Bred's new neighbour French Village. We then headed up to Strabane to visit our niece Sophia (and Rueben's sister and her fiancé too). I can't believe how many teeth she has already and is trying her hardest to walk everywhere. She also gave me the biggest smile when she saw me but cried when she saw Rueben, so I am definitely
winning on who is the favourite.
We had a lovely time with them before heading towards Derry for my friend Michaela's art exhibition opening evening at the CCA.
The exhibition is part of Sam's Eden curated by the very talented Thomas Wells from Array, and features work from Yarli Allison, Suds McKenna and of course Michaela Razafima Nash.
The exhibition investigates three different responses to the queer body occupying the physical and virtual realms and reflects on the importance of sanctuary. It's on until the 9th of Sept, so if your up in Derry, definitely go check it out!
The next day we decided to check out CastleCourt's new cinema The Avenue to see Wes Andersons new film Asteroid City. I normally hate cinema's but like the QFT, so I decided to give The Avenue a go, and well it did not disappoint.
When we arrived there was lots of tables available to enjoy a wee drink before the movie, but our screen was ready so we headed in and took our seats. The cinema was beautiful with comfy seats (we choose a two-seater sofa) and footrests where you could store your bag, coat etc. Even their bathrooms where beautiful, with local soap from The Handmade Soap Co, which is my personal favourite.
A staff member came over and took our order. We could a share bowl of popcorn (which was massive) and some cocktails. I got a mocktail as I was driving, and Rueben got an Old Fashioned. Everything was served right to us at our seats, the drinks were beautiful.
The film was so good and very old school Wes Anderson. The cinematography was just beautiful, and my favourite character had to be the alien.
Now you could have had food at The Avenue, but Sunday was steak night. I.e., the only thing I can cook.
Now I used to cook at the start of our relationship, but Rueben really enjoys it so he now cooks every night (I know, I am really lucky).
But the one thing I do know how to cook is steak. I am not a chef but this is now I cook a good steak sandwich.
I got this recipe from a Tiktoker/ Instagramer a while ago called, Saskia Sidey, and now I swear by her way of cooking steak. Here is her wee video if you want to follow her.
Now I might have changed a few wee things from the original recipe but here is how I do it.
First, I advise making a drink of your choice, my personal preference is defiantly a Negroni Sbagliato, which is basically equal parts Campari and Rose Vermouth, in a glass with ice and topped with Prosecco.
Now, you need to take the steak out into room temperature and marinate with oil, salt, and pepper. I choice a sirloin and Rueben likes a fillet.
Next chop up your red onions and fry in some butter, once they are soft add red wine vinegar and some brown sugar to make caramelised onions. I would then wrap them in foil and stick in the oven to keep warm.
I then poke some Mash Direct champ and stick that in the oven too.
Stick some butter into a frying pan and render the fat of the steak and then cook for two minutes each side (this would be for a medium steak.)
Then add some crushed garlic and fresh rosemary to the pan and baste for another minute. Ideally you wouldn't have killed your rosemary plant like me and be forced to use dried.
Remove from the pan and allow to rest for 10 minutes.
Now you will cut your ciabatta down the middle and let it soak up all the goodness from the pan before allowing it to get crispy in the oven.
Stick some peppered sauce on a pan to heat.
Then add some mayo and a teaspoon of dijon mustard into a small bowl and mix to make your own mustard mayo.
Now just for assembling, slice your steak into little strips, then add your mayo to the ciabatta, caramelised onions and steak on top.
Add cheese of your liking, I choice gorge. And add the top of your bread.
Champ and peppered sauce on side.
Now that's not a bad weekend.
- Dearbhail x