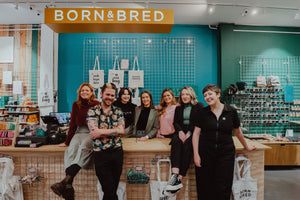 Founder/Boss
Linzi
I spend most days on the phone or on my laptop but my real passion is product development so I love nothing more than being in top floor studio. I can be very messy and I have a habit of leaving half drunk cups of coffee around my desk with apple cores and banana skins. I would say that this probably does everyones heads in but screw them - I'm the boss 😉! I am mum to two girls, one wants to be a ballerina while the other wants to be a dragon. When I am not in Born and Bred I am thinking about Born and Bred… or drinking Prosecco with Laurie. 
Operations Manager
David
Linzi is my big sis and she convinced me to come work for her many moons ago. I am the team pessimist which annoys the hell out of Linzi and since I love annoying my big sis this works out quite well. We have a code word on the shop floor if a conversation turns into a sibling tiff! If you come into the shop and hear the word 'pineapple' randomly being used, you know what it's about. I love to wear black with a hint of flamingo and have worn the same leather jacket for at least ten years.
Admin
Laurie
I officially joined the team last year for Admin support and to keep Linzi on track with paperwork but I have been roped in during busy times in the shop for over 3 years now. I am mum to Lucie and Dylan and 3 fur babies, Alfie, Miley and Rocco. I love going for long walks with my dogs, camping with friends, paddle boarding and putting the world to rights with Linzi over one or two glasses of Prosecco. 
TOUR HOST
Dearbhail
I first joined the team back in 2019 and I am the Born and Bred hostess with the mostess - looking after our in store tour experiences. I am the most accident-prone member of our team and when I am not falling down the stairs, I am normally debating what to get for lunch.
I am in my 3rd year of studying fine art at Ulster University, where I am developing my own artist skills and hope to go on to become an art therapist. I am also an abortion rights activist, being the Belfast rep for UU Pro-Choice Society and working will Alliance for Choice to advocate for free, safe, legal, local abortion healthcare here and worldwide.
Designer
Leanne
I joined the team in 2019 and I work on all the creative projects at Born and Bred. I spend most of my time on the top floor in our studio, framing, printing, designing and drawing. As well as being part of the team I also do freelance illustration work and you can even find some of my work in store. I love drinking tea and never sit down when I'm eating my lunch, much to the annoyance of Linzi.
retail manager
Becca
I joined the team in 2021 after 10 years in hospitality, but unfortunately I've know Linzi & David my whole life & this has made me the main issuer of the word 'Pineapple'. You'll usually find me on the shop floor tidying, organising & rearranging things, which is a constant job in born & bred especially when it comes to picking up Linzi's half drunk cups of coffee & apple cores 🙄.When I'm not in work you might find me in Bittles with David, or trying out Belfast's newest restaurants, I'm a big foodie so I love it when you guys ask for recommendations in the shop
CORPORATE MARKETING MANAGER
Catherine
My role is the art of giftology - fancy I know! I look after all our corporate clients creating bespoke packages for organisations to keep their staff and customers very happy. I process orders from anywhere from 5 - 500 gifts for our clients, packing and posting it all from our Belfast city cente store. I'm currently in my final year of university completing my Communications & PR degree. When I'm not in the library or at work, you'll find me running the roads (or talking about it) probably training for my next half marathon.
Learn more about our story